Characteristics of Department
The purpose of the Department of Interdisciplinary Informatics is to develop the ability to design and manage information systems, which is necessary to organize a wide variety of information and knowledge to analyze and solve issues, in order to respond to changing social values and various issues in diversifying modern society. It also aims to help students systematically acquire interdisciplinary application skills, which can trigger new paradigm shifts through informatics in various fields.
Admission Capacity
| Master's Program | Doctoral Program |
| --- | --- |
| 25 students | 5 students |
※All admission capacities are tentatative.
Cultivation of professionals
Master's Program
Human resources who have acquired knowledge and skills in specialized disciplines related to informatics, the foundation upon which an advanced information society is built
Human resources who have acquired the ability to design systems aimed at creating new value by integrating Knowledge Science and Information Systems Engineering with Social Science and other fields, as well as the scientific analytical and thinking skills required to address advances in technology and changes in society
Human resources with a deep understanding of information and communications technologies not only from a technological standpoint but also in terms of their impact on society in the realization of information systems essential to the daily activities of people and society, and who possess high ethical standards, a sense of mission, and a sense of responsibility as a professional
Doctoral Program
Human resources capable of advancing and promoting research and development within their own specialized field of informatics
Human resources capable of promoting academic exchange with neighboring fields and across disciplines
Human resources capable of contributing to the realization of a sustainable society through the promotion of research and development based on ideas unfettered by conventional frameworks
Human resources capable of collaborating with researchers in other fields, and who possess a level of insight gained through academic research that takes a comprehensive view of contemporary society
Human resources capable of developing and managing new information systems and information services aimed at solving the problems of contemporary society, as well as independently formulating specialized knowledge and theories
Curriculum Features
Deepening expertise through information-based cross-disciplinary research
Main Lectures and Seminar Courses
(Primarily identified by keywords)
Statistics and big data analysis
Data science and algorithms
Intelligent media processing and natural language processing
Machine learning and deep learning
Cognitive psychology and social informatics
Information sensing and wireless telecommunications
Platforms and networks
High-performance computing infrastructure
Healthcare informatics
Information security
Practical education and research aimed at solving real-world problems
(Primarily identified by keywords)
Demonstrations in smart cities promoted by Osaka and social implementation in smart universities
Development of applications and presentations of solutions based on analyses of real-world data
Design and implementation of urban OS and data collaboration platforms linkable with private and government platforms
Development of biometric sensing devices and application in data analysis and healthcare/sports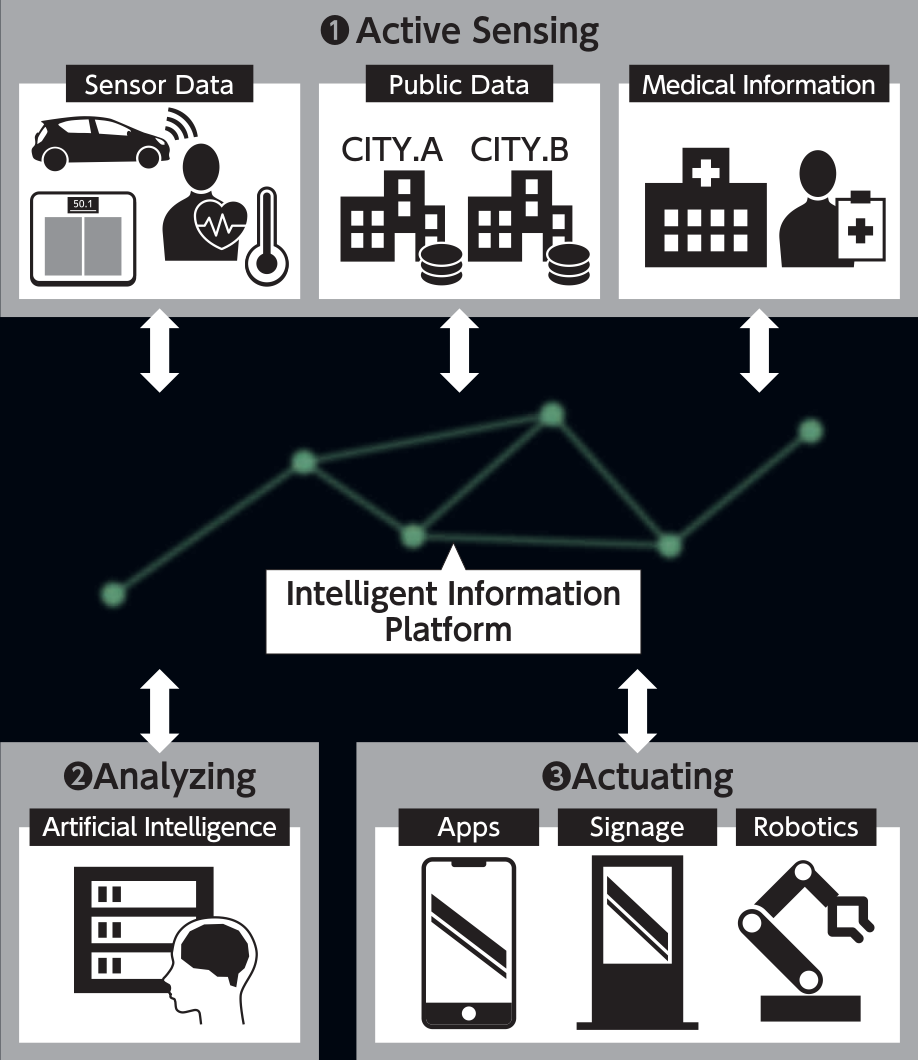 Curriculum Map