Department of Applied Biological Chemistry
About Department of Applied Biological Chemistry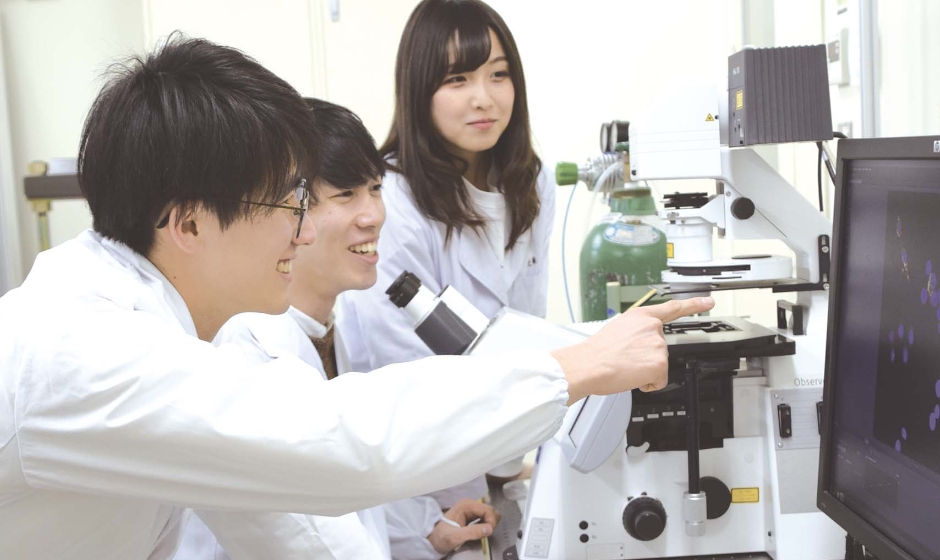 Professors in our department conduct research and education to create innovation in the Life Sciences. Students systematically learn the most advanced biochemistry, molecular biology, organic chemistry, microbiology, biophysical chemistry, and so on necessary to understand the biological phenomena at the molecular and cellular levels and to apply them to achieve the sustainable development of human society. Students are then trained to become the next generation of professionals who can play an active role globally in a wide range of fields related to bioscience and biotechnology, including the food industry, pharmaceutical industry, chemical industry, environment, resources, energy industry, and food safety administration.
Curriculum
In the Department of Applied Biological Chemistry, students can systematically learn from basic to advanced sciences necessary to acquire "fundamental skills in natural and life sciences," "the ability to understand biological phenomena at the molecular level," "the background and skills as a scientist involved in the food industry and food safety administration," and "the ability to develop technologies to effectively utilize the various resources produced by organisms." Many of our students go on to graduate school to acquire more advanced specialized knowledge and skills.
Lectures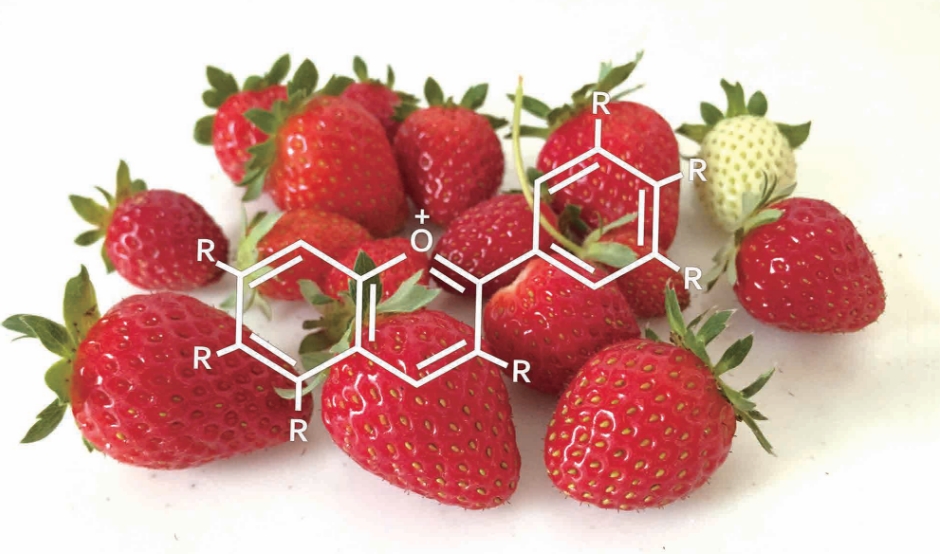 Food Chemistry
Students will get deeper insights into the chemical properties of food components and chemical events related to food wholesomeness and safety, which are necessary for research and development in the food fields.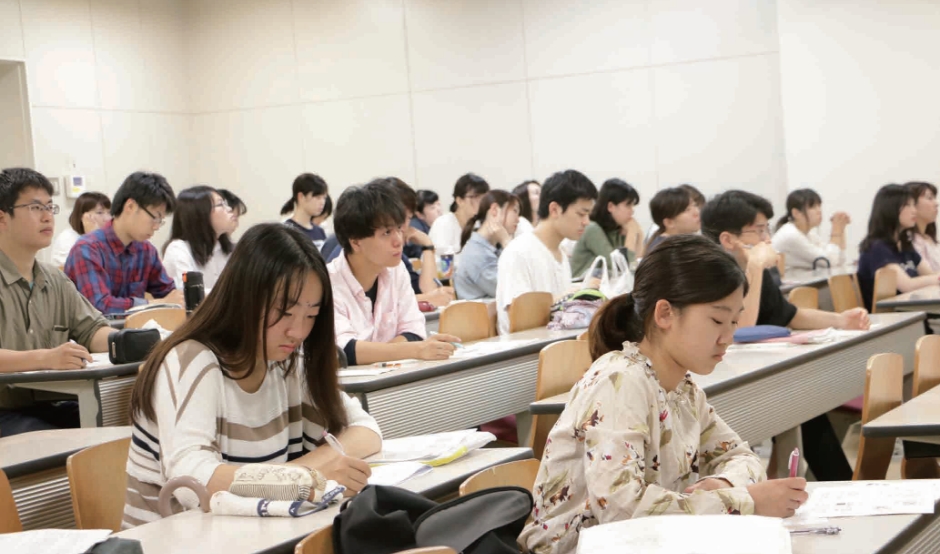 Biophysical Chemistry
This course explains the basics of chemical thermodynamics necessary for a unified understanding of the myriad of chemical reactions that govern biological phenomena, with specific examples of cellular activity.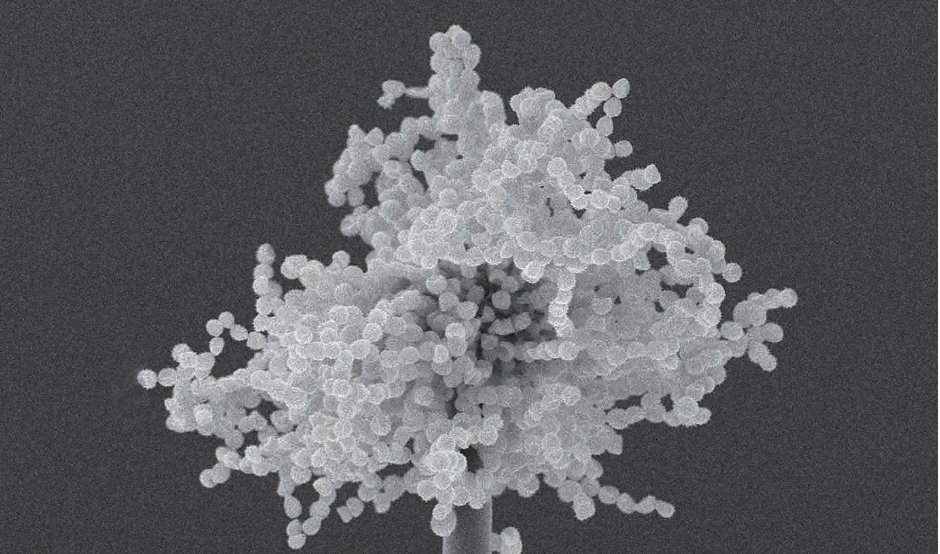 Fermentation Physiology
Students can understand the basic metabolism of microorganisms and their regulatory mechanisms, and learn about the various principles and techniques for utilizing microbial functions.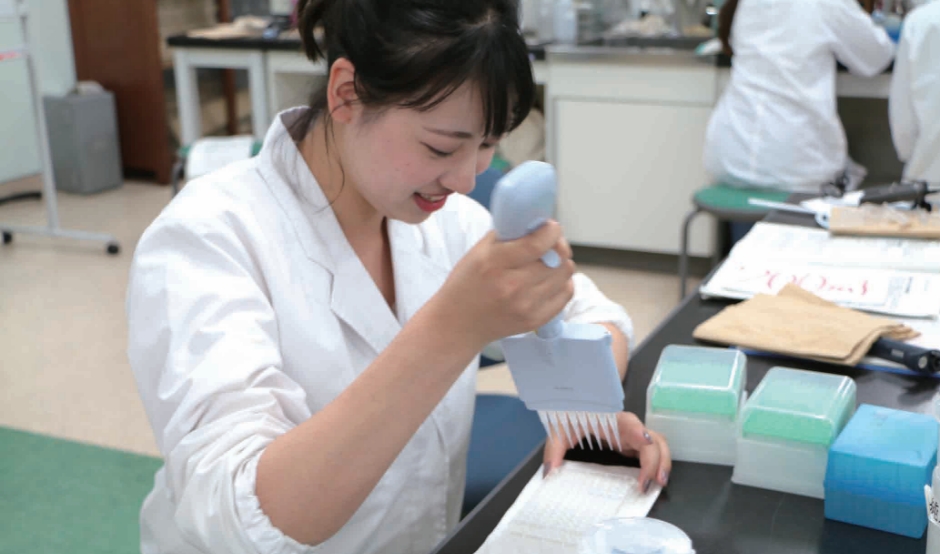 Laboratory exercises
A series of laboratory exercises are held in the afternoons for the second- and third-year students, 4 days a week. Through nine laboratory exercises, students will learn the basic skills and manners of a researcher.
Minors
The Department of Applied Biological Chemistry offers minors in the Drug Discovery Sciences and Technology (DDS) and the Food Safety Science (FSS). The DDS program is open to students in Osaka Metropolitan University (OMU), whereas the FSS program is limited to students in our department. We provide an interdisciplinary education program unique to OMU. Students will have the opportunity to learn the conceptual framework and factual knowledge necessary to deal critically with the rapidly changing science of DDS and FSS and to understand their application.
Minor in Drug Discovery Sciences and Technology
Biopharmaceuticals, which are high-molecular drugs created by biotechnology, have shown epoch-making effects in the treatment of diseases such as cancer. This program provides students with lectures on the drug discovery process, including the elucidation of the causes of diseases, drug design and synthesis, preparation of proteins and peptides, and pharmacokinetic and toxicological pathology experiments using animals, to acquire the basic knowledge and skills to carry out "biopharmaceutical" development in the future. Besides the traditional pharmaceutical sciences, the program offers courses in genomic drug discovery science on the basis of biotechnology, antibody engineering, and drug delivery science, all of which are necessary for cutting-edge drug development.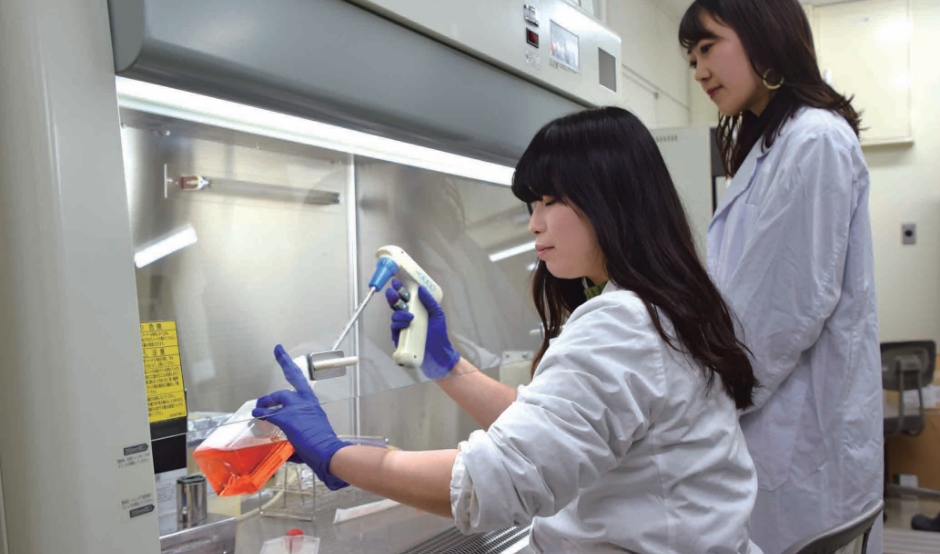 Food Safety Science Program
This course is designed for students who aim to become professionals in the food field by taking a wide range of subjects related to food and food environments, such as food chemistry, food manufacturing, food hygiene, and public health. The course starts in the third year and includes a full range of subjects to acquire qualifications as a food sanitation manager and food sanitation supervisor.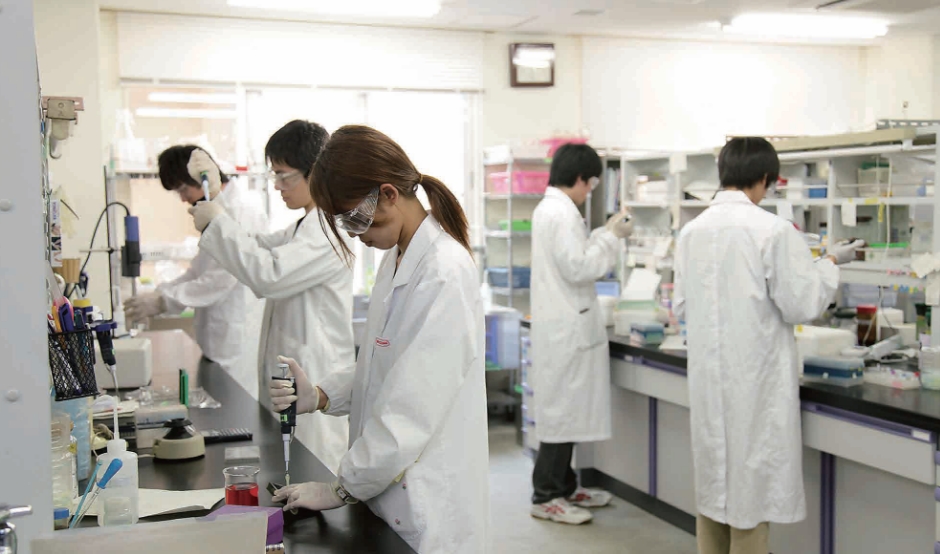 Research groups
The Department of Applied Biological Chemistry comprises nine research groups. For more information regarding each research group, please see the following link: