Career Support
Career Services and Support
At Osaka Metropolitan University, career services and support on individual campuses are provided by the staff of the responsible department on that campus in collaboration and cooperation with faculty, under the overall jurisdiction of the Career Center on the Sugimoto and Nakamozu campuses. The Career Center provide guidance and plan and hold events such as corporate seminars to enable students to engage in more effective job searches and choose career paths that they will not regret, as well as offering both online and face-to-face consultations to provide students with individual advice on all aspects of career progression.
The offices responsible on each campus are listed below. Please do not hesitate to contact them if you need advice or have any questions about career progression.
Note: Because of Covid-19, most consultations are currently taking place online.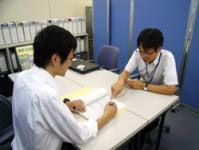 Individual consultation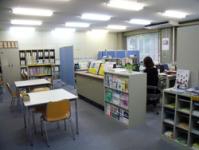 Career Support Office (Nakamozu)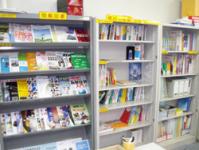 Career Support Office (Nakamozu)
Sugimoto Campus
Career Center (Takahara Hall)
Telephone: 06-6605-2104
Nakamozu Campus
Career Support Office, Student Affairs Division (1F, Building A3)
Telephone: 072-254-9119
Abeno Campus
Academic Affairs Division, School of Medicine
Telephone: 06-6645-3611
Academic Affairs Division, School of Nursing
Telephone: 06-6645-3511
Habikino Campus
Career Support Service, Student Affairs Group
Telephone: 072-950-2940
Rinku Campus
Student and Educational Affairs Service
Telephone: 072-463-5091
Guide to Career Support Office Services
Individual consultations

Opening hours: Monday–Friday 10:00–16:00 (subject to change)

An appointment is required, but applications can be made on the day if slots are available.
Appointments can be made online via the Career Support Portal (https://www2.kyujin-navi.com/GAKUGAI/login/login_unimsad.php?uniid=00356), or by telephoning the Career Support Office

Whether you are a first-year student or have already graduated, please feel free to ask about anything at all.
Some examples: What direction to take, how to look for a job, self-analysis, internships, writing resumes and application forms, interview techniques, making a final decision on employment, how to deal with organizations making informal offers of employment, qualifications, and researching the nature of different sectors, industries, and jobs

Career Support Portal
The Career Support Portal enables users to search and view online all the job openings and information on company presentations received by OMU. It carries advertisements for positions at a large number of companies that are hoping to recruit students from OMU, and its use is strongly recommended.
The My Recruitment Management function also enables users to manage their preferred companies and schedules.
It also carries information received by OMU on internships and notifications from the Career Support Office, and can be used to make appointments for individual consultations and apply to attend on-campus recruitment events that require a reservation.

◆Main Functions


Search and view job openings and company presentations information received by OMU
Manage preferred companies and schedule with the My Recruitment Management function
Preferred Career Path registration
Actual Career Path report
Job-Seeking Experience Record registration
Individual (Group) Counseling reservations
Support Events reservations
Search Job-Seeking Experience Records to search and view records of the experiences of previous students
Search and view Internship Information
Search and view information on companies that have visited OMU in Visiting Companies Information

"SUZAKU&HQ Profile" career support tool
The "HQ Profile" is an organizational psychology-based self-analysis tool used by over 3,000 companies.
By recording your own studies, extracurricular activities, volunteer experience, part-time work experience, and other aspects of your experiences and study at university, you can obtain a quantitative, objective view of your personality, characteristics, thought tendencies, and behavioral characteristics.
It informs you of the strengths that you can utilize and the good elements that you can further develop in order to achieve the career formation that you envisage.
SUZAKU is the name of a system that enables you to record your records and HQ Profile history.
It is available for all students to use. Please ask the Career Support Office for instructions on its use.
Literature and resources

Newspapers (Nihon Keizai Shimbun, Nikkei Sangyo Shimbun)
Books on how to pass employment examinations
Books describing small and medium-sized companies in good standing
Shushoku Shikiho magazine
Business publications on the themes of careers and working
All of these can be read in the office (some can be borrowed for up to 2 weeks)

Career Support Partnership System
The Career Support Partnership System was established by Yokohama City University in November 2013 to improve support for students looking for jobs outside the Tokyo metropolitan area. It aims to build a national network centered on national and public universities. OMU decided to join this partnership not only to improve the job-seeking environment for OMU students and strengthen our links with other universities, but also to support its policy of engaging in efforts to contribute to local communities and support local businesses.
Through the introduction of this system, students can receive the following forms of support from partner universities in the region where they are hoping to find a job.

【Forms of Support】

Information on job openings and company orientation meetings provided by universities
Career consultations
Access to related resources, such as publications, in Career Support offices
Use of internet or desks when creating documents

【Partner Universities】
Akita International University, Tokyo Metropolitan University, Yokohama City University, Fukui Prefectural University, University of Yamanashi, Yamanashi Prefectural University, Tsuru University, University of Nagano, University of Shizuoka, Nagoya City University, University of Hyogo, Hiroshima City University, University of Kitakyushu, Osaka Metropolitan University (Osaka City University and Osaka Prefecture University)
Career guidance, planning and holding on-campus seminars and other events

Career guidance: As well as events held to coincide with the timing of the job-seeking process, guidance is also offered on career formation for freshmen and sophomores, and for overseas students.
On-campus seminars: Industry/company seminars held with the participation of numerous corporations, government agencies, and organizations with the aim of deepening participants' understanding of their sectors, companies, and work, and corporate seminars (company presentations) held to provide information on their business and recruitment/selection information.

Inquiries
Sugimoto Campus
Career Support Office, Student Affairs Division (Takahara Hall)
Telephone: 06-6605-2104
Nakamozu Campus
Career Support Office, Student Affairs Division (1F, Building A3)
Telephone: 072-254-9119