OMU News
University of Padova professors visit OMU
On September 6, 2022, President Masahiro Tatsumisago met with Professor Silvia Rita Sedita and Associate Professor Roberto Antonietti from the University of Padova, Department of Economics and Management in Italy. They were accompanied by Associate Professor Tamane Ozeki from the OMU Graduate School of Urban Management, who is currently a visiting professor at the University of Padova.
Professor Antonietti briefly introduced the history of the University of Padova—the second oldest university in Italy—which has an exchange agreement with OMU. The University of Padova has a strong international focus and has provided excellent education in not only Italian but also English.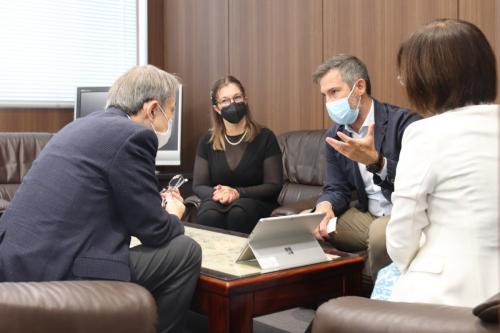 Professor Antonietti presenting the history of the University of Padova
President Tatsumisago revealed that he had visited the University of Padova for a conference. "Padova is a beautiful city and from my visit five years ago, I know it is a prestigious university," noted President Tatsumisago. "It is a pleasure to have education and research collaborations with you and I would like to visit Padova again in the future."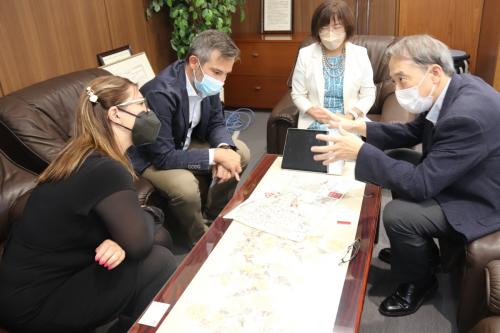 President Tatsumisago revealing his map of the University of Padova while sharing the highlights of his visit
The meeting concluded with President Tatsumisago thanking Professors Antonietti and Sedita for their visit and agreeing on further promoting exchange activities despite complications due to the ongoing global pandemic.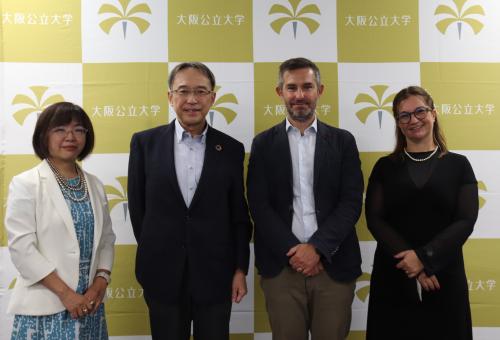 From left to right: Professor Ozeki, President Tatsumisago, Professor Antonietti, and Professor Sedita
Contact
Graduate School of Urban Management

Associate Professor, Tamane Ozeki

E-mail: tamane.ozeki[at]omu.ac.jp 
*Please change [at] to @