OMU News
Associate Professor Shimono recognized for his exceptional skill in worldwide diagnostic imaging contest
On October 11, 2022, Associate Professor Taro Shimono of the Department of Diagnostic and Interventional Radiology, Graduate School of Medicine, Osaka Metropolitan University was awarded a Diagnosis Please Certificate of Recognition as the international winner. This award is given to the participant(s) with the most correct answers—in the world—to 'Diagnosis Please' test images, which are published 12 times a year in 'Radiology,' the most authoritative journal in the field. This is the sixth time that Professor Shimono has received the international award, which he also won in 2005—the first awardee in Asia—2009, 2014, 2017, and 2021.
Professor Shimono has also won a similar contest held by the Japanese Society of Radiology many times, with 20 wins in spring contests and 8 wins in fall contests.
Awardee's Comment
I am honored to receive such a wonderful award again.
I believe the reason I received this award is that I have learned a lot, not only from our department but also other departments in my clinical medical work.
I would like to continue my efforts contributing to the development of the Graduate School of Medicine and Osaka Metropolitan University Hospital.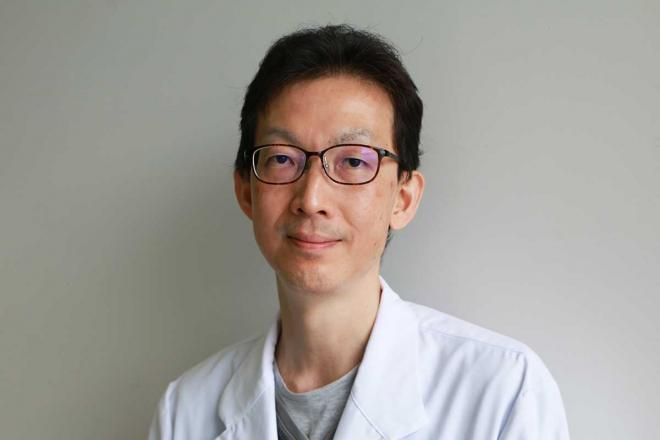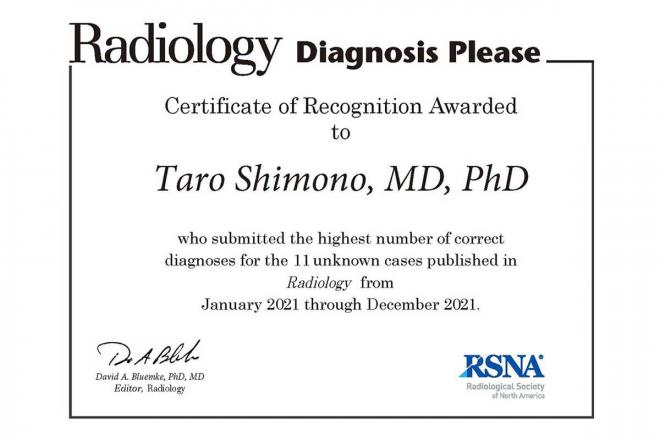 Related Links (in Japanese)
Diagnosis Please Certificates of Recognition Awarded to Two Individuals and to International and North American Radiology Resident Groups
Associate Professor Taro Shimono wins the grand prize in the Image Interpretation Session for the 28th time!
Department of Diagnostic and Interventional Radiology Website (Japanese)
Department of Diagnostic and Interventional Radiology News (Japanese)
Contact
General Affairs Division
University Hospital Management Bureau
Osaka Metropolitan University Hospital
E-mail: gr-a-shomu-kouhou[at]omu.ac.jp
* Please change [at] to @.