OMU News
Ceremony to commemorate appointment of Kanjuro Kiritake as OMU Distinguished Visiting Professor
On August 26, 2022, OMU held a special ceremony to commemorate the appointment of bunraku puppeteer Kanjuro Kiritake as Distinguished Visiting Professor. The ceremony, which was held at the Media Center on the Sugimoto campus, was organized as part of the Kamigata Culture Course, a special lecture series offered by the Faculty of Letters. Attending online, Kanjuro Kiritake received the certificate virtually from OMU President Masahiro Tatsumisago, who was present at the ceremony venue.
Flower bouquets and commemorative gifts were also presented to Shikorodayu Takemoto (a tayu, or narrator) and Seisuke Tsuruzawa (a shamisen player), who, like Kanjuro Kiritake, have been long-term lecturers in the Kamigata Culture Course.
What is a Distinguished Visiting Professor?
The title of Distinguished Visiting Professor is awarded to internationally renowned researchers or those with outstanding achievements in Japan or abroad. Awardees are expected to contribute to further promoting and developing OMU's education and research activities from an international perspective, and to be involved in a wide range of advanced and extensive OMU-related duties.
Award statement by Kanjuro Kiritake
I am very honored to receive such a prestigious title. At first, I took it lightly, but the responsibility is getting heavier and heavier. In the future, I would like to continue to talk about bunraku in ways that will fascinate people. I am determined to do my best.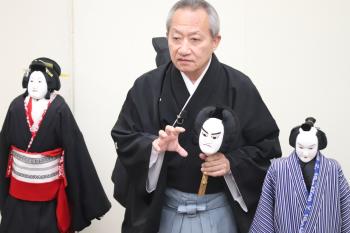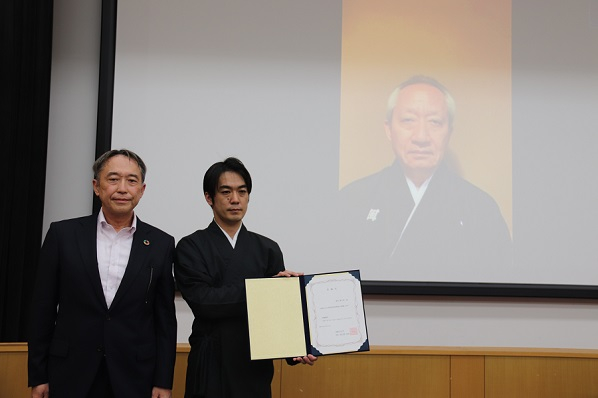 President Tatsumisago awards the Distinguished Visiting Professor certificate.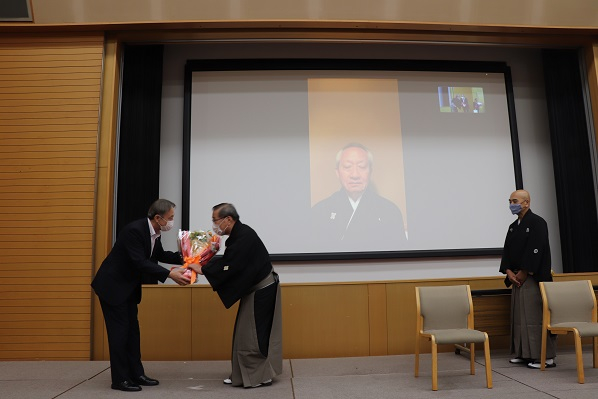 President Tatsumisago hands a flower bouquet to Shikorodayu Takemoto.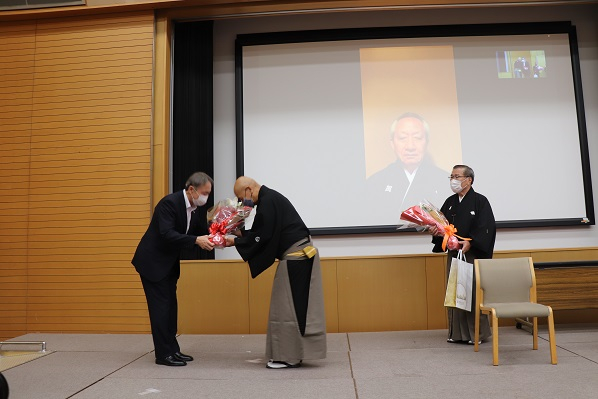 Seisuke Tsuruzawa receives an OMU bouquet and commemorative gift.
Original Japanese Article
https://www.omu.ac.jp/info/news/entry-02062.html
Contact
Public Relations Division
E-mail: koho-list[at]ml.omu.ac.jp
*Please change [at] to @
SDGs