OMU News
Professors Receive Certificates of Appreciation from Japan Society for the Promotion of Science
The Japan Society for the Promotion of Science (JSPS) presented Certificates of Appreciation to Professor Nobuyuki Kanda of the Graduate School of Science and Professor Haruhiko Horino of the Graduate School of Agriculture for their outstanding contribution to the advancement of science.

Professor Kanda served as a program officer in the Mathematical and Physical Sciences Group from April 2018 to March 2019 and continued as a senior researcher until March 2022, while Professor Horino served as a senior program officer in the Agricultural and Environmental Sciences Group from April 2018 to March 2022.
On Wednesday, April 20, 2022, President Masahiro Tatsumisago presented the certificates to the researchers at the Sugimoto campus. Together with Professor Hiroyuki Sakuragi, Vice President for Research Strategy and International Strategy, they discussed their experience at the Research Center for Science Systems, research funding trends, including the government's Grant-in-Aid for Scientific Research, and the role Osaka Metropolitan University plays in global academia. The discussion concluded with the President requesting that the professors use their experience to support research promotion programs in Osaka Metropolitan University.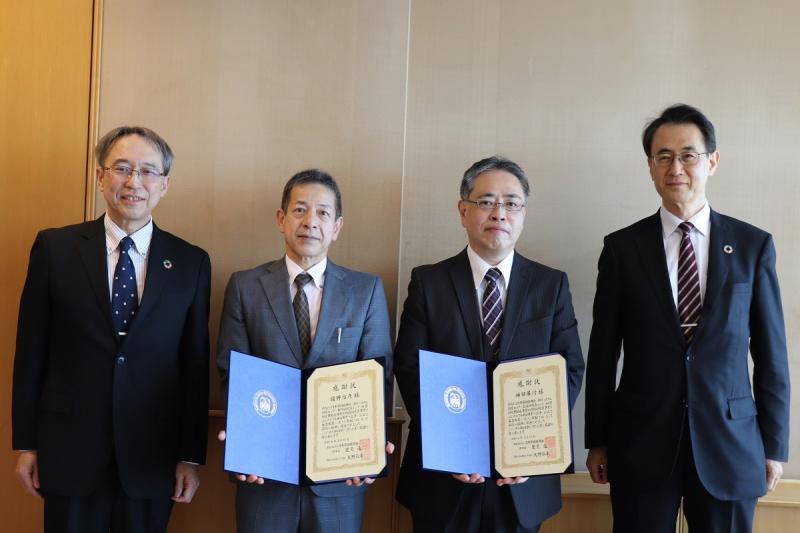 From left to right, President Masahiro Tatsumisago, Dean Haruhiko Horino, Professor Nobuyuki Kanda,
and Vice President Hiroyuki Sakuragi.
Inquiries
Research Promotion Division (Sugimoto)
Tel:06-6605-3466