OMU News
UN Officer delivers lectures on campus
Dr. Ekutu Franck Bonzemba, Senior Trade Promotion Officer of the United Nations International Trade Centre, delivered lectures at the OMU campus on June 14 and 15, 2022. Dr. Bonzemba earned a Ph.D. from the Graduate School of Business, Osaka City University. The lectures were facilitated by Associate Professor Mari Ninomiya from the OMU Graduate School of Busines.
【June 14】
Dr. Bonzemba spoke about opportunities for international careers in an open class as part of an OMU core course called "Godai Tomoatsu Endowed Course, International Business" at the Sugimoto campus Building No. 8. During the class, students supervised by Associate Professor Ninomiya gave short presentations on the United Nations' specialized agencies before Dr. Bonzemba delivered a lecture on his global career. Based on his years of experience working at international organizations, he provided students with many insights and advice, which inspired students who were especially fascinated with UN-related information.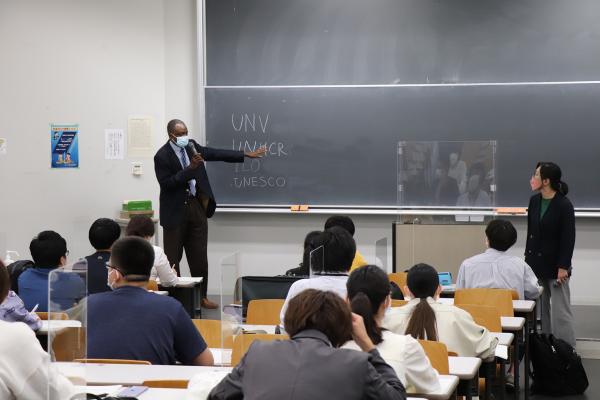 Dr. Bonzemba explains about UN-related organizations to students.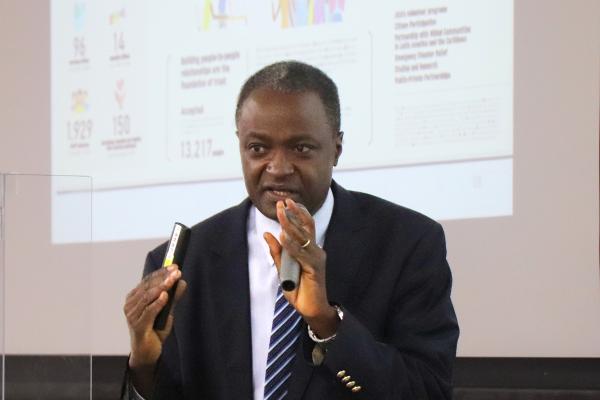 Dr. Bonzemba inspires students with international careers.
【June 15】
Dr. Bonzemba's second lecture, entitled "Development Challenges of Africa: Emerging Economy and Possibilities for Business," was delivered the following day in the first International Seminar sponsored by the Graduate School of Business and the Society of Business Research at Building No. 1 of the Sugimoto campus. During his lecture, Dr. Bonzemba enlightened students about Africa as a growing global market, endowed with great diversity in natural resources, culture, and development levels. The lecture was followed by an active Q&A session, during which Dr. Bonzemba addressed a wide array of inquiries from both students and faculty members, who showed great interest in investment opportunities, sustainable foreign investment, and free trade schemes in Africa.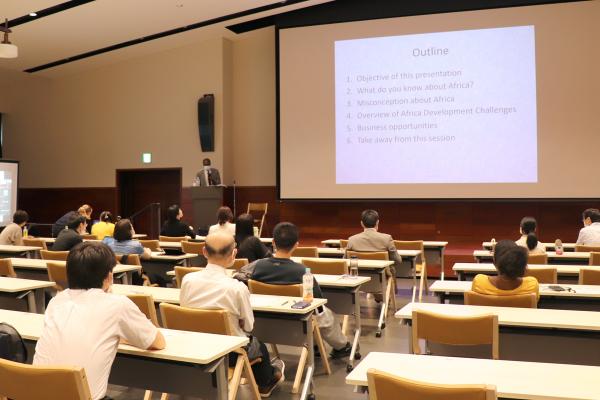 Dr. Bonzemba enlightens students about Africa as a growing global market.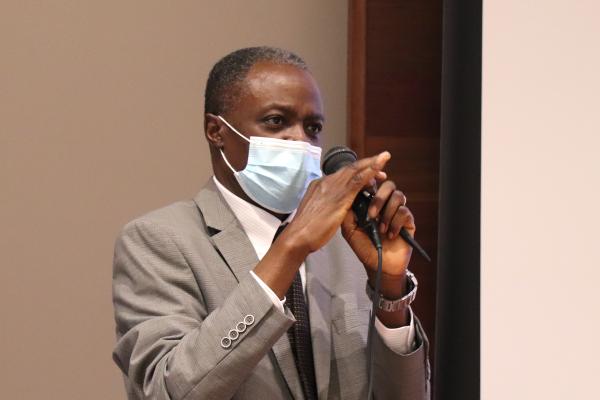 Africa is a continent of great diversity and great growth opportunities," states Dr. Bonzemba.
Related Information
UN-ITC Officer paid a courtesy visit to OMU, his alma mater
https://www.omu.ac.jp/en/info/news/entry-01128.html
Contact
International Relations Division
Tel:06-6605-3557
SDGs