OMU News
White coat ceremony held: a step forward for student doctors!
On Saturday, December 24, 2022, the "White Coat Ceremony" was held at the Abeno Campus.

The White Coat Ceremony is an occasion where white coats are awarded to each of the new fifth-year medical students, before they begin two years of clinical training, to encourage them to be aware of their responsibilities as student doctors and to strive for high aspirations during that time.

The event has been held at the School of Medicine since 2015, but this year—for the first time in three years—their families were also able to attend.

The ceremony began with opening remarks by Dean Norifumi Kawada of the School of Medicine, and the Alumni Association for the School of Medicine Chairperson, Hiromichi Ikuno, followed by words of encouragement to students on behalf of the faculty, from Professors Daiju Fukuda (Cardiovascular Medicine), Yasutoshi Kido (Virology), Takeaki Ishizawa (Hepatobiliary and Pancreatic Surgery), and Daisuke Tachibana (Obstetrics and Gynecology).

Afterward, Dean Kawada, Chairperson Ikuno, and Professor Taichi Shuto, Chairperson of the School of Medicine, presented new white coats to three student representatives, amongst whom Arashi Nishiura gave the pledge on behalf of the fifth-year class.

Finally, in his closing remarks, Chairperson Shuto gave some impassioned words of advice on becoming a doctor, with the students listening attentively.

*The student representatives selected were the three top scorers in the Computer Based Test, a test common among medical universities—to evaluate knowledge—with the oath administered by the highest scorer.


Greetings by Dean Kawada
Greetings by President Ikuno
Presentation of white coats
Pledge of Allegiance by Nishiura, the student representative
Greetings by Chairperson Shuto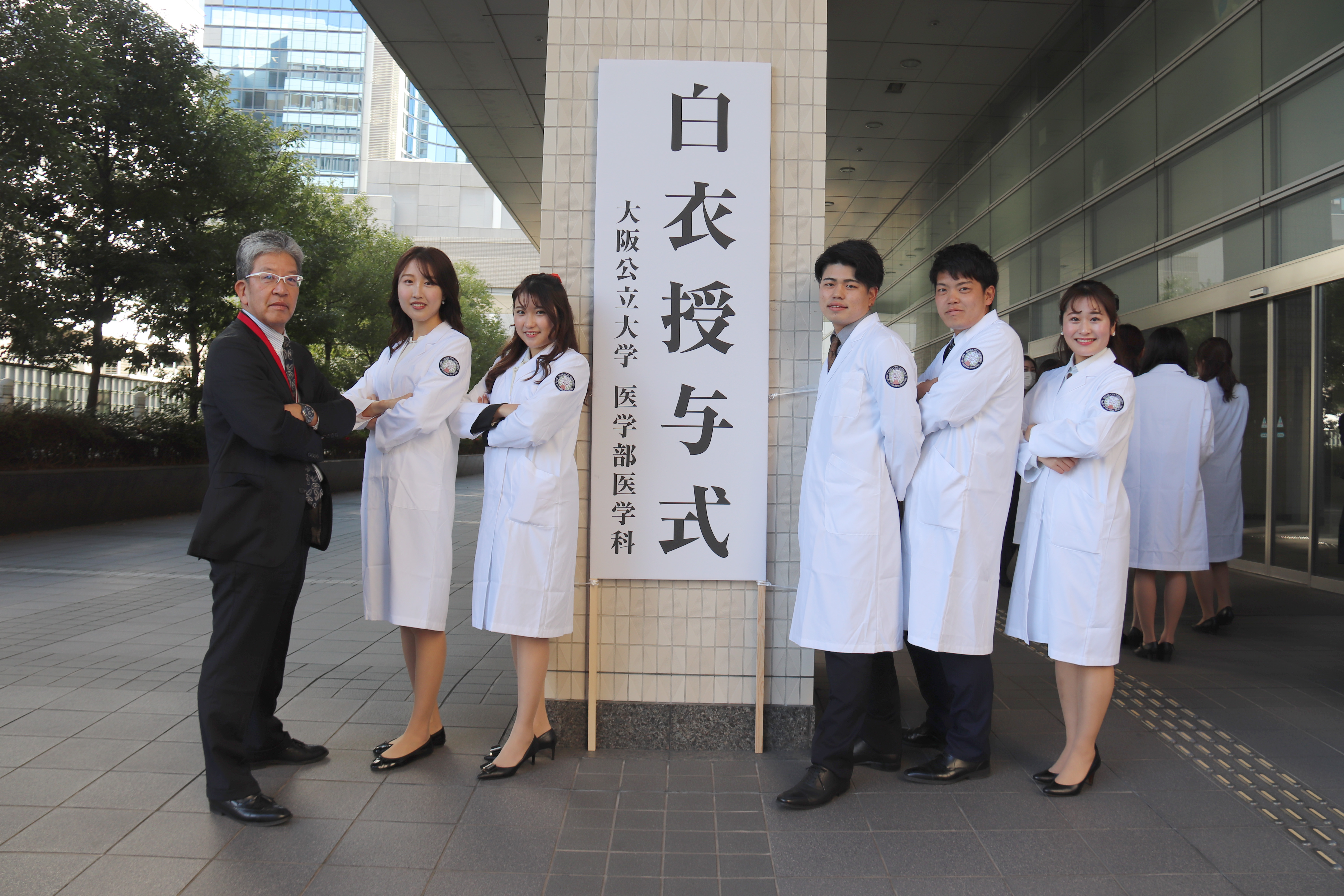 Students pose with Chairperson Shuto in front of the White Coat Ceremony signboard
Group photo after the ceremony
Contact
Public Relations Division
MAIL: koho-list[at]ml.omu.ac.jp Please change [at] to @.
SDGs