OMU News
Upcoming event: International Symposium on World-leading Engineering Research, hosted by OMU Graduate School of Engineering
An international symposium aimed at presenting cutting-edge engineering studies is scheduled to take place at the Osaka International Convention Center on September 20 and 21. The event, hosted by the OMU Graduate School of Engineering, will gather distinguished experts and up-and-coming young researchers from universities and research institutes in China, India, Italy, France, Korea, the United Kingdom, and Japan.

The two-day symposium, divided into an opening plenary session and three following sessions, will feature a series of keynote speeches, poster presentations, and discussions. Among the speakers in the opening plenary session will be Professor Akira Yoshino, a Nobel laureate in Chemistry.

Serving as a platform for sharing innovative research results from not only OMU but also the international community, the event is expected to offer excellent learning and networking opportunities for a wide range of participants, be they OMU students or young researchers.

*The symposium will be conducted in English.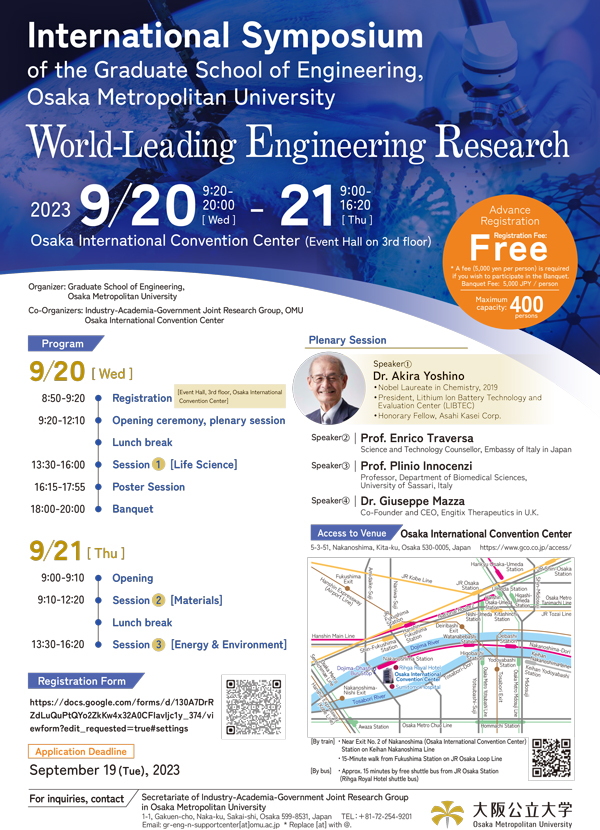 Date: September 20 (Wednesday) and September 21 (Thursday)
Place: Osaka International Convention Center, 3F Event Hall
Theme: Engineering
Capacity: 400 persons
* In the case of over-registration, there will be a drawing.
Target audience: Students and general public
Registration: Pre-registration required through application form by September 19
Participation fee: Free (A separate fee of 5,000 yen for a social gathering on September 20)
Presented by the Graduate School of Engineering, Osaka Metropolitan University
Application form
Related information
Graduate School of Engineering International Symposium
Contact
Graduate School of Engineering, Osaka Metropolitan University
Tel: 072-254-9201
Mail: gr-eng-n-supportcenter[at]omu.ac.jp
*Please change [at] to @.
SDGs