Research News
Graduate School of Engineering research featured as frontispiece in "Small"
The paper titled "Nanofluidic aptamer nanoarray to enable stochastic capture of single proteins at normal concentrations," authored by Associate Professor Yan Xu and his research group at the OMU Graduate School of Engineering, has been selected as the frontispiece in Wiley's journal Small.
In this study, the researchers developed a nanofluidic device called the Nanofluidic Aptamer Nanoarray (NANa). The device features a densely packed array of aptamers within nano-sized fluidic channels. It enables the stochastic capture and digital detection of single molecules of target proteins, even within samples of high concentration.
The frontispiece illustration, created by Dr. Nattapong Chantipmanee, a JSPS Postdoctoral Fellow in the same research group, vividly depicts the NANa's unique ability. It illustrates the stochastic capture and digital detection of single proteins, highlighting the groundbreaking nature of this research.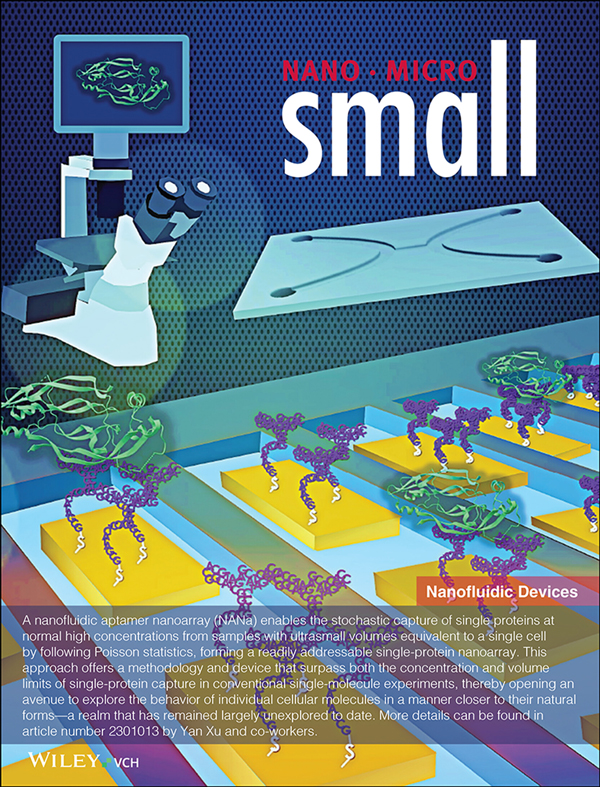 Paper Information
Journal: Small
Title: Nanofluidic Aptamer Nanoarray to Enable Stochastic Capture of Single Proteins at Normal Concentrations
DOI: 10.1111/febs.16791
URL: https://doi.org/10.1002/smll.202301013
Frontspiece: https://doi.org/10.1002/smll.202370354
Related Information
Yan Xu's Nanofluidics Lab
http://www.chemeng.osakafu-u.ac.jp/group8/index-e.html

Contact
Graduate School of Engineering
Yan Xu
E-mail: xuy[at]omu.ac.jp
*Please change [at] to @.
SDGs