OMU News
Medical Engineering Collaboration: Device Developed at the Graduate School of Engineering Installed at the Graduate School of Medicine
On Wednesday, April 27, 2022, a device developed by the School of Engineering was installed in the Department of Orthopedic Surgery at the Abeno campus. Both Schools have been engaged in a number of joint research collaborations since 2015. The Department of Orthopedic Surgery in the School of Medicine and the Department of Physics and Electronics in the School of Engineering are strongly linked collaborators, publishing their paper entitled "In vivo study on the healing of bone defect treated with non-thermal atmospheric pressure gas discharge plasma" in PLOS ONE October 2021. However, the mechanism of bone regeneration was not fully understood. Since then, they have been investigating this mechanism through in vitro bone regeneration study.
To clarify how plasma irradiation regenerates bones, Professor Hiroaki Nakamura (Head of Department of Orthopedic Surgery) and Associate Professor Hiromitsu Toyoda (Principal investigator) from the Graduate School of Medicine worked with Professor Tatsuru Shirafuji (Director of BioMedical Engineering Center, BMEC) and Professor Jun-Seok Oh (Co-investigator) to create a new plasma device. They expect to clarify the mechanism of bone regeneration and shorten the time needed for bone fractures to heal. This ongoing collaboration is anticipated to contribute a lot to applied in medical practice.
Lead researcher, Dr. Toyoda said, "We have already reported that bone regeneration is promoted by using low-temperature atmospheric pressure plasma technology, but there are still many unknowns. By continuing our research, we would like to develop the first rapid bone regeneration treatment to restore newly healed bones to full strength."
This endeavor was supported by the Graduate School of Engineering Professor Taro Tachibana (Deputy Director of BMEC), who was happy to donate the microscope stand used by the device. Additionally, Mr. Tatsumi Suga (Production Engineer) machined parts necessary to assemble the plasma device on the microscope stand.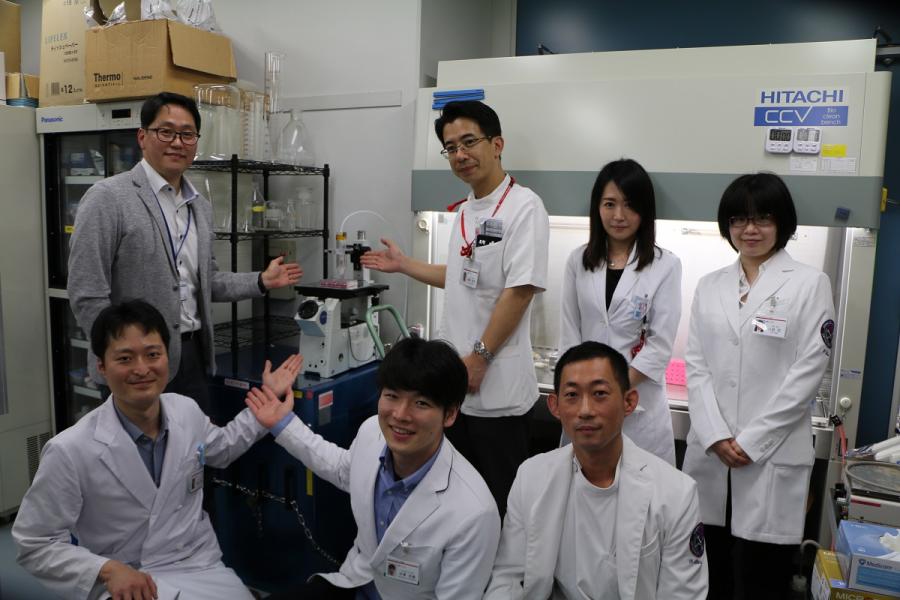 (Top row, left to right) Prof. Oh, Associate Prof. Toyoda, Researcher Orita, and graduate student Yao.
(Bottom row, left to right) Graduate student Saito, Graduate student Nakazawa, Graduate student Ban.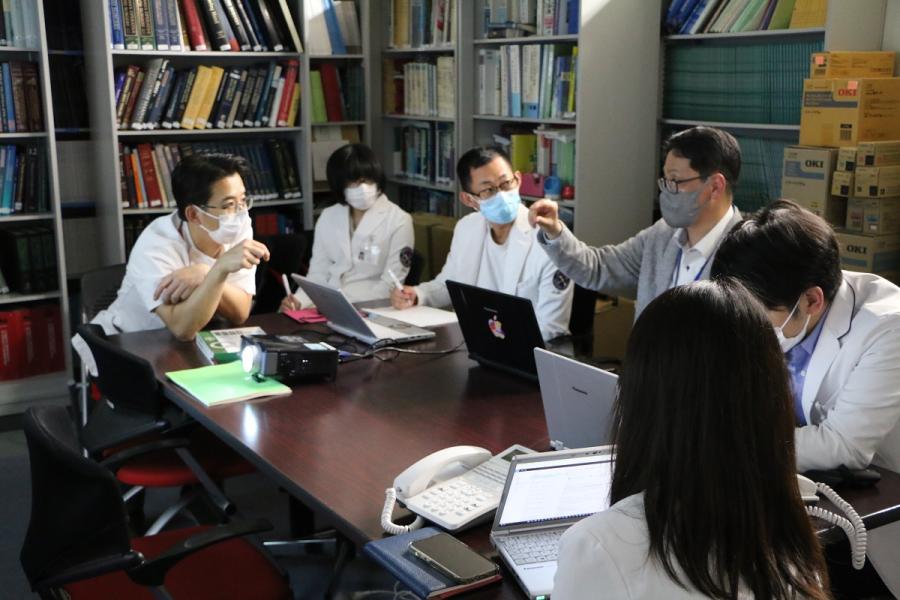 Discussion of plasma device installation.