OMU News
Andrews University delegates visit OMU
On Thursday, March 16, 2023, Assistant Dean for Undergraduate Education Aaron Moushon and Associate Professor of Management Liz Muhlenbeck of Andrews University made a courtesy visit to the OMU, and they talked with Vice President Makoto Tsubota and Vice President Toshiyuki Matsui.

SIGLOC-JP (Socially Innovative Global Classroom in Japan) is one of the OMU COIL* programs provided by the SI Minor Course**. 11 students from Andrews University are currently participating in the program, working together with OMU students.

After welcoming greetings by Vice President Tsubota and Vice President Matsui, Professor Yoshihiro Nakajima of the Graduate School of Economics, who is responsible for the COIL promotion office, gave a presentation on the history of the COIL project, ongoing programs, and future prospects for the program. The report was also made on the long-term exchange program implemented for the first time this academic year as well as the active exchange between OMU students and from Andrews University students who have visited Japan this time.

At the end of this courtesy visit, Andrews University presented OMU with a commemorative plaque in appreciation of the five-year collaboration between the two schools, which includes several joint online classes and various forms of SIGLOC programs beginning in 2018.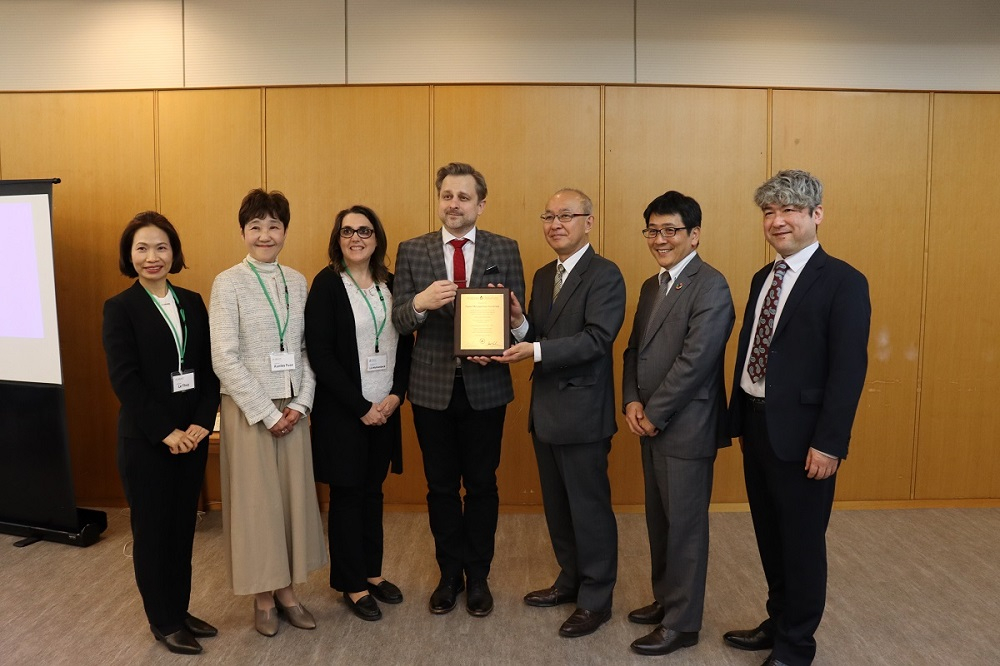 From left to right: Associate Professor Le Thi Thanh Thuy, Ms. Kuniko Fuse (Specially Appointed Lecturer, in charge of COIL classes), Associate Professor Liz Muhlenbeck, Assistant Dean for Undergraduate Education Aaron Moushon, Vice President Makoto Tsubota, Vice President Toshiyuki Matsui, and Professor Yoshihiro Nakajima


*COIL= Collaborative Online International Learning
** SI Minor Course= Social Innovation Minor Course


Japanese Article
https://www.omu.ac.jp/info/news/entry-05340.html


Contact
International Relations Division
Tel:06-6605-3557
SDGs